We run an annual gardening themed week each spring called 'Green Fingers' to promote the joys of growing, cooking and eating homegrown fruit and veg to children. This year, rather than cancel our plans, we are moving the event online, so we can share resources with you digitally to use at home.
We've been working with innocent's Big Grow and to give away seed packets with the food hampers and lunch bags currently being provided, so watch out for those (where applicable) – perfect for some windowsill or garden-based growing.
If you'd like to get some seeds to grow at home too, you can sign up for a home kit here.
ONLINE RESOURCES
Working with TV gardener, Chris Collins and innocent drinks, we'll be making resources available throughout the two weeks which can be used at home to help with learning and general gardening and foodie themed fun!
We'll be uploading a new resource each day including videos, top tops and downloadable activities. We'll be sharing them Twitter too, so be sure to follow us to get the latest info @ISS_Education!
GET INVOLVED & WIN PRIZES FOR YOUR SCHOOL
We're holding a competition for the most imaginative or impressive photos, videos, drawings or write ups on Green Fingers linked successes. This could be evidence of plants being grown, recipes tested or activity sheets completed. We'll then ask Chris Collins to help us pick some lucky winners, who will win a top prize for their school. Prizes include:
A new school vegetable garden
A gardening school visit from Chris Collins (when possible)
A month's supply of innocent smoothies
Entries can be shared with us via our Twitter page @ISS_Education or emailed to us at hello@feedinghungryminds.co.uk and need to be submitted by Monday 15th June 2020.
INTRODUCING… GREEN FINGERS 2020
HELLO BIG GROWER
Whether you're lucky enough to get a pack of seeds or not, this has some fab activities and top tips for gardening theme activities.
Click here to download the activity booklet.
GROW A CRESS HEAD AT HOME
Here's Chris' guide to growing it at home. Fun to make and super quick to grow, you'll see results in just a couple of days!
MAKE AN EDIBLE HANGING BASKET AT HOME
TASTY RECIPES
Duncan Newall, one of our Regional Executive Chefs, will be cooking up some tasty Green Fingers inspired recipes over on the ISS UK Instagram Page on Thursday 14th May at 3pm. If you missed it, don't worry, you can use the recipe cards to try cooking it at home, or catch up with the demonstration here.
TOMATO SALSA
Try this tasty tomato salsa recipe at home.
CREATE A GROWING WALL
TOMATO & BASIL BRUCHETTA 
Chef Mark, shares this super easy recipe with help from some young helpers!
CREATE A PIZZA WHEEL GARDEN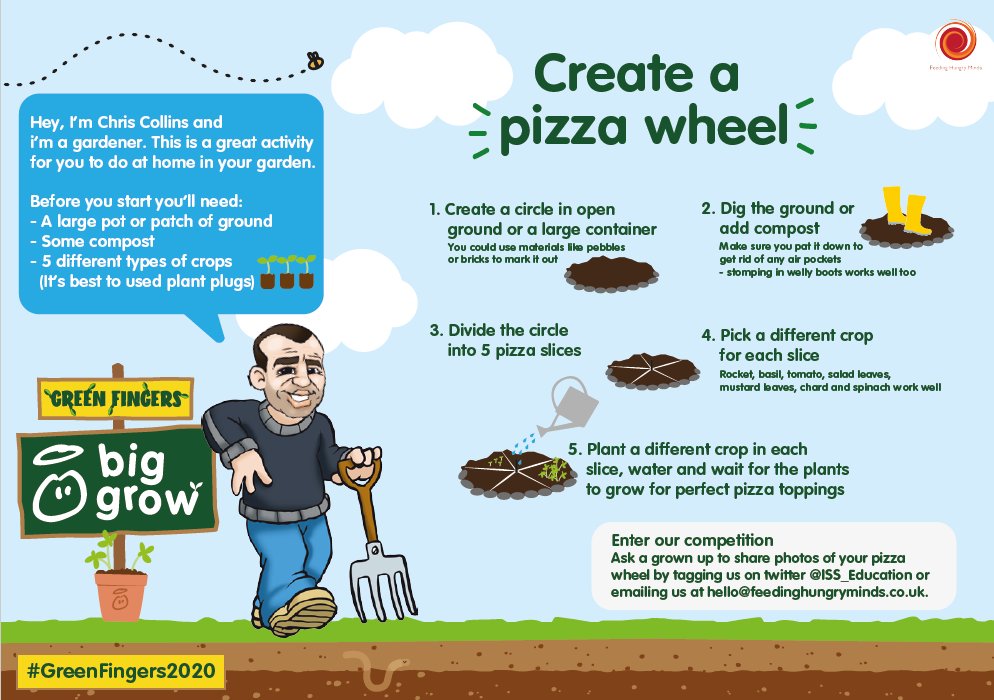 This super easy activity is perfect project to grow pizza toppings if you have a garden!
Download the activity sheet here
PLANT A SALAD BAR